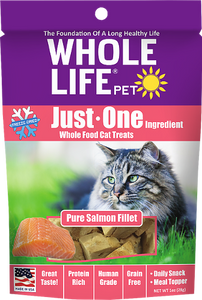 Freeze-Dried Cat Treats with Just One Ingredient
Whole Life Pet has rebranded their freeze-dried treats, now named "Just One". The Just One Salmon Treats for Cats are made from nothing but pure Wild Alaskan Salmon caught in Hoonah, Alaska by fisherman they work with directly. The salmon is cleaned and flash frozen at sea for safety and freshness. It is shipped directly to Boston where it is skinned, de-boned and cubed, then sent right off to Whole Life's facility in Western Massachusetts where it's freeze dried to perfection.

Salmon filet cubes make the ideal daily snack for cats. They are full of healthful Omega 3 oils which have many proven health benefits for pets. Whole Life's salmon treats have a firm texture with strong salmon flavor and aroma. If your pet likes fish, this is a sure winner.
Whole Life salmon is line caught using sustainable fishing methods. They don't ever add coloring agents so their treats have a very natural look that varies throughout the season based on which species of salmon is being used. The later in the fishing season, the more pale salmon flesh becomes. Early season, salmon flesh is brighter. You will see this change reflected in the treats throughout the year.
All of the logistics in their fish supply chain are managed by Red's Best in Boston. The quality of their products, direct connection to their fisherman, commitment to the environment and sustainable fishing methods are just a few reasons why Red's Best is the only way Whole Life purchases fish.
Available in 2 sizes:  1oz and 10oz resealable packages.
Guaranteed Analysis
Ingredients: 100% Pure Wild Alaskan Salmon
Crude Protein: 52% Min
Crude Fat: 28% Min
Crude Fiber: 1% Max
Crude Moisture: 2% Max