Cat Supplies & More

Well-made products for your cat's well-being
Focused on Your Cat's Health and Happiness
Where Your Purchase Helps Animals in Need
Cat Supplies & More
Well-made products for your cat's well-being
Focused on Your Cat's Health and Happiness
Where Your Purchase Helps Animals in Need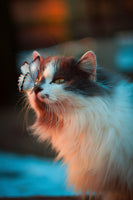 Welcome to Cat Supplies & More!
Cat Supplies & More focuses on top quality products which are important to your cat's health and well-being. Our products are recommended by our own feline furmily (fur family).
And because we are devoted not just to cats but to animals everywhere, a portion of all purchases is donated to animal welfare.
Made in America
We at Cat Supplies & More are proud to be able to carry a lot of wonderful cat supplies made in the USA and you can find them all right here. Most of these are from small businesses like ours.  We hope you enjoy shopping for items "Made in America" as much as we enjoy carrying them in our store.