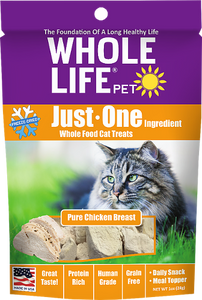 Freeze-Dried Cat Treats with Just One Ingredient
Whole Life Pet's breast meat chicken is gently steamed, sliced then freeze dried to perfection removing moisture while concentrating flavor, aroma and nutrition.
Whole Life freeze dried chicken breast treats are low in fat, calories and carbs making them an ideal healthy snack for both dogs and cats. Their single ingredient formula provides pure protein without fillers, chemicals, additives or preservatives.
Whole Life uses USDA certified hormone free white meat chicken breast from farms in Georgia, Kentucky and California. They freeze dry all of their treats in our their state of the art facility in Western Massachusetts.
Freeze dried chicken is unique in color, texture and especially flavor. The attention to detail during every step of the process produces a crisp treat that can be broken into bite size pieces making them easy to use for any size or age cat.

You can also crumble them over your pet's food, adding nutrition and excitement to every meal. Freeze dried treats can be quickly rehydrated in warm water to produce a soft meaty texture ideal for older pets or those that have difficulty with hard treats.
Available in 3 sizes:  1oz, 4oz, 10oz and 21oz resealable packages.
Guaranteed Analysis
Ingredients: 100% Pure Chicken Breast
Crude Protein: 80% Min
Crude Fat: 3% Min
Crude Fiber: 1% Max
Crude Moisture: 4% Max