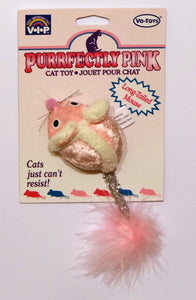 Purrfect for Kitties Who Love Pink
Vo-Toys made a range of pink cat toys and this was a popular one. Now discontinued, we have a VERY limited supply. The Purrfectly Pink Long-Tailed Mouse Cat Toy has plush pink fur with sparkles, white accents, big eyes, and a pink nose (of course). It has an adorable, long glitter tail ending in a pretty pink feather puff.
Discontinued; limited quantity; when they are gone, they are gone!