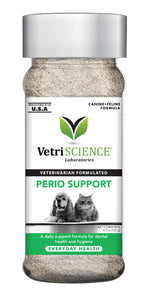 Everyday Oral Health Food Addition
Preventing dental problems cheaper than treating" is the headline of a DVM360 web newsletter from Doctors of Veterinary Medicine. VetriScience is under the same roof as PetNaturals of Vermont and they took the Oral Health for Cats, upgraded it, and it is now Perio Support. And so Perio Support is STILL the ideal daily prevention.
Perio Support for oral health is a powder in a shaker that you add to your cats' food, preferably by shaking it onto the top. That works for us!  The ingredients help prevent placque from forming, help prevent and break down bacteria, and support healthy gums. Oral Health is easy to administer because of its great taste and smell, and is an easy way to prevent dental health problems in cats.

This is the affordable investment which prevents the big expense on major dental bills. The shaker contains 4.2oz of powder specifically designed for cats. Made in America.
Active Ingredients Per 2.5 g (approx. 1 Teaspoon):
Natural Zeolites - 500 mg
Cranberry Extract - 25 mg
Yucca Schidigera Extract - 7 mg
Taurine - 1.25 mg
Zinc (as Zn Ascorbate) - 0.8 mg
Lactobacillus Acidophilus - 5,500 CFU
Enterococcus Faecium - 5,500 CFU
Inactive Ingredients
Anise oil, dried aspergillus niger fermentation extract, dried aspergillus oryzae fermentation extract, dried bacillus subtilis fermentation extract, dried lactobacillus casei fermentation product, dried lactobacillus fermentum fermentation product, dried lactobacillus plantarum fermentation product, dried whey, fenugreek seed extract, glucose monohydrate, sodium sulfate, vegetable fat, whey solids, yeast fermentation solubles. As a benefit, it also includes cranberry which is good for urinary tract healthy.
Directions for Use:
Up to 15 lbs: ¼ tsp per meal
16 ‒ 30 lbs: ½ tsp per meal
31 ‒ 60 lbs: ¾ tsp per meal
61 ‒ 90 lbs: 1 tsp per meal
91 lbs ‒ 120 lbs: 1 ½ tsp per meal
Over 120 lbs: 2 tsp per meal