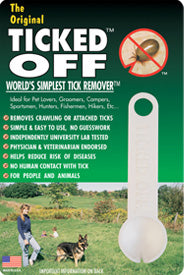 Easiest and Best Way to Remove Ticks
Ticked Off is the #1 tick remover for people, cats, dogs, and other animals. When used correctly, it easily removes the ENTIRE tick including an embedded head.  It helps reduce the rick of diseases, and is doctor and veterinarian recommended. Ticked Off is small and light-weight enough to go into your pocket, purse, backpack, or whatever, and is proven to safely remove disease-carrying ticks from people and pets.

Instructions
May be used in any direction to remove ticks, from front, back or side.  (Note the different direction in photos)

Once the tick has been isolated, is clearly visible and free from obstruction, place the wide part of the notch on the skin near the tick (for cats, you will need to hold the skin taut).
Applying slight pressure downward on the skin, slide the remover forward so the small part of the notch is framing the tick.
Continuous forward sliding motion detaches the tick.  Do not pry, lever or lift up.  The tick is now completely removed for disposal (or may be saved for testing).
Treat the wound as needed.
Clean your tick remover with alcohol or similar disinfectant.
For adult and adult supervised use; not a toy.