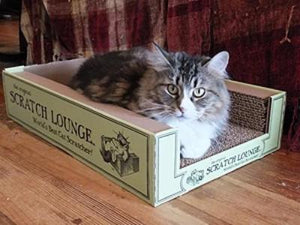 Best Cat Scratcher
I simply can't say enough good things about this Scratch Lounge. It's a scratcher, it's a lounger, it's a play area. Do your kitties love to scratch and just lie around on their scratchers? This one-of-a-kind design allows cats to satisfy their instinctual need to nest in a whole new way. They will love the thick cardboard and the long sides. Also, it arrives with cardboard ends that are meant to be removed, but if you have a Man Cat who likes to deconstruct boxes and stuff, leave an end in place for him to tear up (if he can--it is sturdy stuff!). Looking for a replacement to the base? That's here
Check it out as Junior Fluffkins and Tethys Fluffkins demonstrate.


Made in America (Chicago) of 100% recycled materials
Contains NO harmful materials, and in fact, they use nontoxic wheat-based glue to adhere the cardboard structure
We like Scratch Lounge also because the Scratch Lounge company donates 10% of all profits to its designated charity, the Amanda Foundation Mobile Clinic, which launched summer of 2008. So when you buy a Scratch Lounge, a portion of money goes to animal welfare from both Scratch Lounge and Cat Supplies and More! That is double the bang for your scratching buck.

Pet Product News selected the Scratch Lounge as Editor's Choice for Best New Product of 2006 because the Scratch Lounge revolutionizes cat-scratch technology, introducing the first 3-sided scratcher.