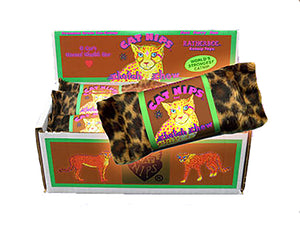 4" Plush Catnip Toy
The Ratherbee Chetah Chew catnip toy is about 4" long stuffed with that 100% certified Ratherbee organic catnip. Made with plush fabric (not plain cotton), in a variety of leopard print colors. This is a smaller version of the Cat Tails, a plush version of the 4" Nips. And yes, Ratherbee really does call them "Chetah" Chews (with one "t").
Eco-grown and made in America (Pennsylvania)
100% full of 100% Certified Organic catnip, no fillers
Do cut off the tag before giving it to your kitteh
Here is Junior Fluffkins with the
Ratherbee Cat Tail plush catnip toy
.