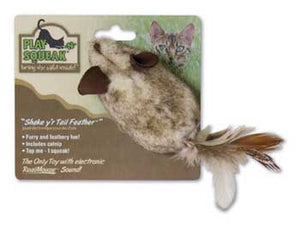 Squeaky Mouse with a Feather Tail
OurPet's Play-n-Squeak Shake Y'r Tail Feather is an adorable little mouse which squeaks when your cat pounces on it. An ounce of mouse equals a ton of pounce! The cute feather tail adds extra fun.
All Play-N-Squeak® toys, from OurPet's, feature an electronic sound module that produces the amazingly realistic RealMouse™ sound - a "squeak" that is the same frequency and loudness as a real mouse!
Play-N-Squeak toys include long-life batteries and catnip
Remove the plastic tab to start the squeak, and cut off all labels
Discontinued, very limited supply.