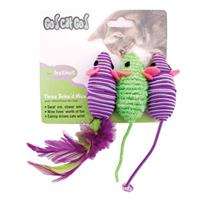 Small Mice with Rattle Cat Toy
OurPets' Three Twined Mice is a set of 3 small mice with rattles and they are great for kittens and for cats who love small toys. They are soft and squishy, and contain catnip. The three mice are a bit different, as two are covered in purple and one in fuzzy green, and one has feathers for a tail! 
Your kittens and cats will have these toys under the furniture in no time at all!!
Discontinued, VERY LIMITED SUPPLY!