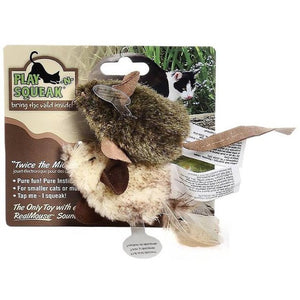 Double the Squeaky Cat Toy Pleasure
OurPets has been making the very popular Play-N-Squeak cat toys for years, the toys that make the real mouse squeak when your cat swats or pounces on them. This set gives you two mice, one brown with a leather tail and one mottled tan with a feather tail! These are essentially slightly smaller versions of the "Shake Y'r Tail Feather" and the "Mouse Hunter" toys.
All Play-N-Squeak® toys, from OurPet's, feature an electronic sound module that produces the amazingly realistic RealMouse™ sound - a "squeak" that is the same frequency and loudness as a real mouse!
Play-N-Squeak toys include long-life batteries and catnip
Remove the plastic tab to start the squeak, and cut off all labels
Play-N-Squeak toys also come with catnip. They encourage your kittens and cats to be active and have fun.  This set gives you twice the fun! Simply pull the tab and away you go!  Also, we suggest you keep these away from dogs and small children. Discontinued, get them NOW while you can!!