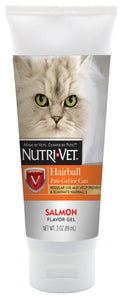 Tasty Hairball Prevention
Nutri-Vet Hairball Paw-Gel for Cats in Salmon contains natural oils and lubricants that help prevent hairballs in cats of all ages by minimizing excessive shedding while promoting skin and coat health. Nutri-Vet is a tasty way for your cat to get hairball prevention gel. The Nutri-Vet Hairball Paw Gel contains natural oils and lubricants that help reduce hairball formation in cats of all ages. It contains yummy catnip, but no petroleum or artificial colors, flavors, or preservatives. Salmon flavor, it comes in a 3oz tube. 
Vegetable oil provides omega-3 fatty acids and helps lubricate the intestinal tract.
Soybean oil provides alpha-linolenic acid, linoleic acid and oleic acid for skin health along with fiber to promote intestinal health.
Tasty chicken flavor any cat would love.
You can apply 1/4 teaspoon of paw-gel to your cat's paw once or twice daily. It tastes so good, you can even offer it right from the tube.  Or, if your cat doesn't like the gel on his or her paw, just mix it into a little bit of favorite food!! 
Nutritional Information
Active Ingredients per Teaspoon (6 g):
Hydrogenated Vegetable Oil – 360 mg
Soybean Oil – 318 mg
Corn Oil – 329 mcg
Inactive Ingredients:
Calcium Pantothenate, Catnip Extract, Cetyl Alcohol, Cholecalciferol, Corn Oil, Corn Syrup, Ferric Ammonium Citrate, Fiber, Folic Acid, Hydrolyzed Soy Protein, Lecithin, Magnesium Sulfate, Manganese Sulfate, Methylparaben, Natural Chicken Flavor, Niacin, Polysorbate 60, Potassium Iodide, Potassium Sorbate, Propylparaben, Pyridoxine Hydrochloride, Retinyl Palmitate, Sodium Benzoate, Sodium Riboflavin Phosphate, Sodium Stearoyl Lactylate, Thiamine Hydrochloride, Tocopheryl Acetate, Vitamin B12 Supplement, Water and Xanthan Gum.
NOTE: Manufacturer's MAP (Minimum Advertised Pricing) is in place for this product. From Manna Pro Products, LLC.