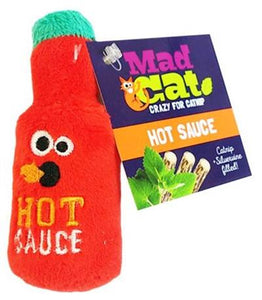 Hot Sauce Bottle-Shaped Catnip Toy
New from Cosmic Pet is this adorable Mad Cat "Hot Sauce" bottle-shaped fabric toy filled with Catnip and Silvervine. The red bottle has eyes and looks like its blowing smoke! 
The bottle's fabric is wonderfully soft, and is a nice size for batting around. From end to end, it's 4" long -- a great sized toy for kitties of all sizes!
This is the purrfect compliment for the Cosmic Pet Mad Cat Catnip Fish Taco.