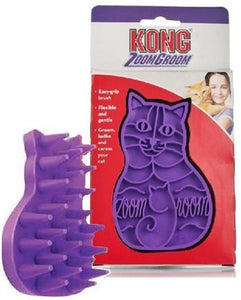 Perenial Favorite Cat Brush
Kong Cat Zoom Groom. This easy grip, ergonomic grooming tool is ideal for those shedding felines.  Really comfortable on skinny and old kitties. Extreme flex and a tacky texture gives your cat a gentle massage while maximizing loose hair removal. 
This is popular at our house, as it gives a lovely massage while gently removing hair. Soft rubber tips feel good on the skin. Our senior cat Tutti especially loved this brush when she got skinny, since regular combs and brushes became painful.