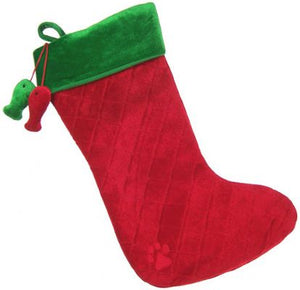 Christmas Stocking for Seriously Good Kitties
This velour cat stocking is perfect either for one very lucky cat's Christmas morning or for an entire furmily of kitties!  Green and Red in color, with an embroidered paw and two plush velour fish hanging off for added decoration, this stocking will look perfect up on the mantel with the rest of the family's stockings.  

A whopping 17" long and 7.5" in diameter, you will be able to stuff it with enough toys and treats to spoil your cat shamelessly on Christmas morning.