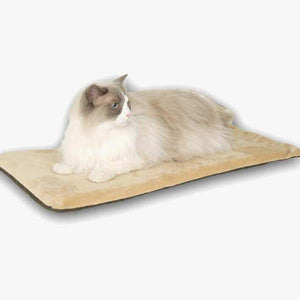 Heated Sleeping Pad for Pets
The K&H Thermo-Kitty Mat is an affordable heated sleeping mat with a dual thermostat heater buried beneath soft foam to make a comfortable napping place for cats and small dogs, especially those recovering from illness or simply without enough meat on their bones to stay warm. The surface of the bed will remain 12 to 15 degrees above ambient air temperature and warms to your kitty's body temperature as she lies on it. The cover is made of plush faux lambskin top with mock suede bottom and is removable for washing. The heater is removable for use as an unheated bed. Thermo Kitty Mat is UL and CUL listed and is recommended for indoor use only.  

Available in 2 colors.
Features:
12.5" x 25" x .5"
Uses only 6 watts so is very efficient
Convenient size fits almost anywhere
Cover is removable for washing
MET Listed
1 year warranty