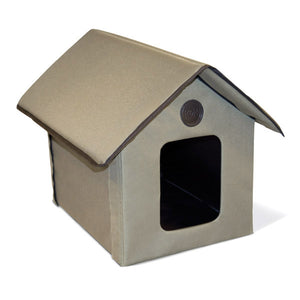 Big and Sturdy Outdoor Cat Shelter
K&H Outdoor Kitty House is made with 600 denier nylon with a vinyl backing that makes it waterproof. The floor is lined with 1-1/2" of waterproof soft foam. The roof hangs over the 2 exits to keep the cats warm, safe, and dry. Easy to assemble with velcro walls and zippered roof. Ships flat. 
If you are going to put this in an open area or a breezeway, we recommend you want to consider attaching a heavy fabric (e.g., wool or canvas) flap, covering about three quarters of the the front door opening to block wind. You can use velcro on the fabric and the cat house. The 3/4-length will block wind and will allow the cat to watch what is happening outside.
Features
Perfect for any outdoor cat
Waterproof for use anywhere outdoors
Two exits so pet cannot be trapped by predators
No tools needed to assemble
1-year warranty
For cats weighing up to 25 pounds
4.5" H x 22" W x 13.75" D
Also available heated.
Please note that MAP (Minimum Advertised Price) applies to the price of this item and we adhere to MAP which is set by the manufacturer.