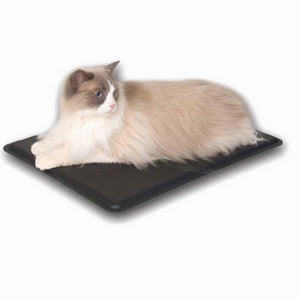 Indoor/Outdoor Heating Pad for Cats
The Outdoor Heated Kitty Pad is an essential source of warmth for any cat that spends time outdoors, but is also wonderful for keeping cats warm indoors. Its internal thermostat keeps the surface nice and warm even in the coldest of temperatures. Place in a shed, garage, barn or anywhere your outdoor kitties spend time. It is made of rugged ABS plastic and a free fleece cover is included. Replacement covers are also available.
Features:
Dimensions: 12.5" x 18.5" x 0.5"
Recommended for indoor and outdoor use
Great for cat houses, porches, garages, barns or in the home
Thermostatically controlled to warm to your pet's normal body temperature
5 1/2-foot steel wrapped cord
MET Listed
1 year warranty
FREE cover included
Please note that MAP (Minimum Advertised Price) applies to the price of this item and we adhere to MAP which is set by the manufacturer.