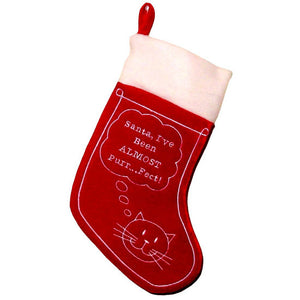 Purrfect Kitty Stocking for Christmas and More!
This stocking will fit just about any kitty for Christmas: "Santa, I've been ALMOST purr...fect!" is embroidered on the front of this adorable red and white stocking.  This stocking for cats will nicely hold catnip, toys, and treats to give your kitty the purr-fect gift. The stocking is 12" long, made of plush velveteen-like material, and has a red loop for hanging by the fireplace with the rest of the family stockings. 
DISCONTINUED. LIMITED SUPPLY.