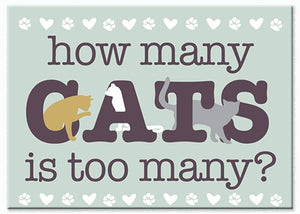 How Many Cats is Too Many?
We aren't sure if too many cats is possible (well, hoarding aside), but you can ponder the answer to this question while enjoying this adorable magnet.  It features the question "how many cats is too many?" with three cats weaving in and out of the text, and hearts and paws highlighting the top and bottom of the magnet.
Made in the USA, these magnets are a great gift!  Each magnet measures approximately 2.5" x 3.5" in size. The actual magnet itself is full size, not just a little bit on the back, so it will stay in place!  Made in the USA!