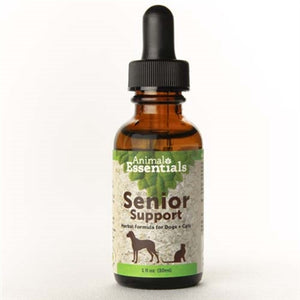 Liquid Support for Senior Cats
Senior Blend from Animal Essentials is a tonic to support the whole body, mind, and spirit for older cats. Senior Blend contains a broad array of what herbalists consider "tonic herbs":
Alfalfa, Dandelion and Milk Thistle for strengthening liver function and digestion

Ginkgo and Hawthorn for the circulatory system

Oatstraw for the nervous system

Garlic as an antioxidant and immune system tonic

Marshmallow to soothe and tonify the urinary and digestive tract
Many holistic veterinarians believe this blend may help strengthen the kidneys. This formula is suitable for dogs also.
Available in a 2oz bottle with dropper.