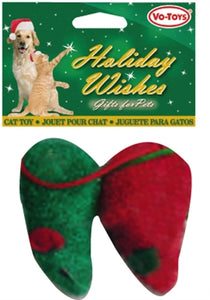 Red and Green Christmas Mice
These adorable red and green Christmas Terry Mice are lightweight so they are easily tossed into the air or whacked under the sofa. They have contrasting ears and tails
and are more fluffy than they look in this picture. Just over 2" long each, the 2-pack will provide lots of holiday fun for cats of all sizes. Catnip-free means any cat enjoy them.  Purrfect for your cat's stocking, for the holidays and beyond!

Discontinued. Limited supply.