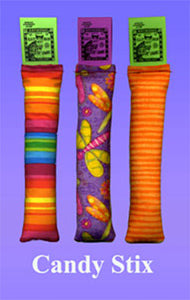 Middle-Sized Catnip Toy
Ratherbee's Candy Stix are a middle-of-the-road size of catnip toy, suitable as for all size. It's 6" long and a bit more narrow than the 6" Nips. Also, the fabric is a bit more thin than the heavier fabric of the 6" Nips. It might be easier for your kitty to taste and smell the 100% organic catnip filling these great Candy Stix. Easy for any cat to hold, lick, bite, and thoroughly enjoy. 
Please note, fabrics change frequently and this image is a few fabrics and does not represent the patterns you will receive.
Eco-grown and made in America (Pennsylvania)
100% full of 100% Certified Organic catnip, no fillers
Do cut off the tag before giving it to your kitteh