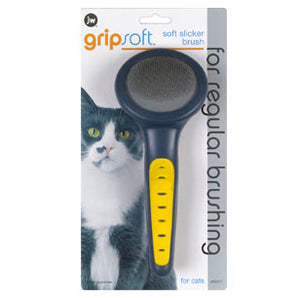 Excellent Cat Brush for Knots
JW Pet's Grip Soft Slicker Brush offers a new entry into the long-time favorite of super-fine, gentle wire cat hair brushes.  The old versions have short wooden handles and wide rectangular heads. We like this better because the ergonomic handle is larger and easier to hold than the olde version, and the rounded head is smaller which means you have more control over where it goes. And no pointed metal corners while your cat is wriggling.

These super-fine, soft wires are great for all cats but especially for sensitive cats' grooming to help keep their coats smooth and free of hairballs. The non-slip handle was designed for comfort.  Many cats like this just for rubbing their gums!