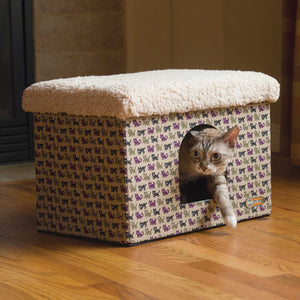 All-Season Sleep Center for Your Cat
New from K&H is this great Bunkhouse which can give your kitty dual sleeping options, with an enclosed space for the winter and a comfy bed on top for the summer. The fabric features adorable cats in mild colors that will work in any decor. This is a fantastic all-season sleeping option for you cat. The Bunkhouse is large enough that it can accommodate multiple cats. It folds and lays flat for shipping and storage, is easy to assemble, and does not require tools for setup.
Features
Gives your cats their own room
The fleece top is removable and washable
Easily assembled and folds flat for storage
Enough room for multiple animals

12in x 18in x 12in
Please note that MAP (Minimum Advertised Price) applies to the price of this item and we adhere to MAP which is set by the manufacturer.