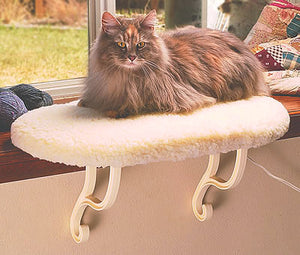 Easy to Install Unheated Cat Window Seat
This window seat for your kitty will be the most popular spot in your home! This popular K&H Thermo-Kitty Sill fits to almost any window. Even without the heating element, the thick padding provides warmth and comfort. This is the sturdiest, most attractive, and most easy to assemble cat sill on the market. It is adjustable to any windowsill using provided Velcro® fasteners. No tools are needed, but screws are provided for more permanent attachment. 
Supports up to 40 pounds
Super-soft orthopedic foam
Washable faux lambskin
14" x 24" x 9"
Recommended for year-round indoor use
Limited one-year warranty
Please note that MAP (Minimum Advertised Price) applies to the price of this item and we adhere to MAP which is set by the manufacturer.