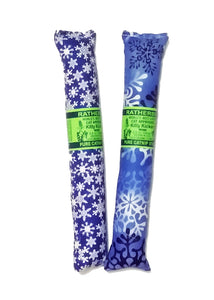 Really Big Wintertime Catnip Toy
The Ratherbee Winter Kicker Catnip Toy from Blue Rat, just in time for winter and any of the holidays. This toy is purrfect for Hanukkah, Kwanzaa, the Winter Solstice, or any wintertime fun. Just like the Santa Kickers, these Winter Kickers are a whopping 11" long, 2" wide, and are stuffed with 2.5oz of the famous Blue Rat Certified Organic catnip. Winter Kickers come in two snowflake patterns. Please allow us to pick them for you. These are in a limited quantity.

The Winter Kickers are made for kitties who love to hold onto a toy with their front legs while kicking the toy with their hind legs. They are bound to last a loooong time. The lovely people at Blue Rat grows all their organic catnip with eco-friendly techniques, and hand-makes each cat toy. 
Eco-grown and made in America (Pennsylvania)
100% full of 100% Certified Organic catnip, no fillers
Do cut off the tag before giving it to your kitteh