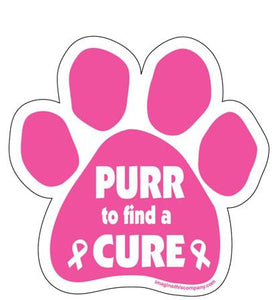 Show Your Support for Feline Cancer Research
Yes, cats get mammary cancer. And it sucks! This pink "Purr to Find a Cure" Paw Magnet is one way to show your support for research to find a cure for this killer. You'll want to show this all year, but don't forget that October is Breast Cancer Awareness Month. This magnet is great for cars, trucks, mailboxes, your metal lunch box, or anything magnetic!
Screen-printed with long-lasting UV stable inks on a heavy-weight magnetic material, they 5.5" wide x 5.5" tall. Made in the USA. 

All proceeds from the sale of this magnet go to the Sugar Rub foundation to support feline mammary cancer research: http://www.sugarrub.org/. 
And don't forget to check your kitties for tumors by giving them a good Sugar Rub!! You'll both love it.